Cashew exporters seek govt support despite record production, lower prices
August 07, 2018 | 0 Comments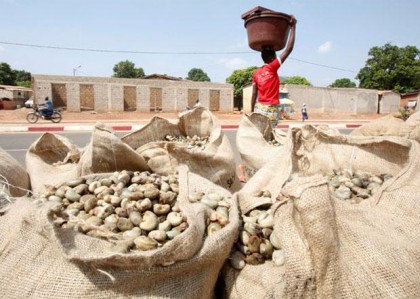 India's production of raw cashew nuts during 2017-18 has increased to an all-time high of 817,000 tonnes, resulting in lower local prices.
However, exporters have not benefited from low-cost cashew. The major issue faced by them is increasing competition in the global market from exporters in countries like Vietnam and Thailand. Exporters say that lower prices in the domestic market are not helping and margins in exports are shrinking. They add that the government should provide incentives to help them retain market share. Indian exporters exported around 84,354 tonnes of cashew kernels in 2017-18, with a 2.49 per cent increase from 82,302 tonnes of exports during the previous financial year. In value terms, the exports went up almost 18 per cent to $910 million, from $770.65 million registered during the previous financial year. The Cashew Export Promotion Council of India (CEPCI) feels that with raw cashew prices at their lowest, Indian exporters have a good chance to grow 6-8 per cent better than the normal rate if the government comes up with timely support. "Unit price of cashew kernel has come down in the international market.
The price difference, which was in the 5-5.2 dollars per pound range last year, has come down to 3.4 dollars per pound. Prices have come down almost 34 per cent. If industry in India can be brought to a normal level, it could bring in parity," said CEPCI Chairman RK Bhoodes. Raw cashew prices in India have come down from Rs 150-160 a year back to Rs 110-120 at present. "The question is if you process a tonne of raw cashew and sell the kernels from that and make a profit out of it. That is what parity means. Last three to four years, that parity was not there. Now, it has come to that level. It is a favourable situation now," he said. However, the industry is not in a position to take advantage of the current price drop in the market, since many of its members are reeling under debt. "If we get support from the government, as a restructuring rather than a larger financial support, it can help us to recover the losses in the previous years," he added. If there is some development in the next one-and-a-half months, exports will pick up. A policy decision lifting the restrictions on loans due to higher debt levels is required to support mechanisation. The requirement is to implement mechanisation, which can reduce cost, in processing units. If there is support for mechanisation and a package for restructuring loans, the industry can grow almost 7-10 per cent higher in volume. If support does not come through, some units will reach a stage where they cannot be revived.
This year, traders might process the stocks they have, using factories that are not attached by banks, which could help exports to a certain limit. However, next year, they might not have stocks for processing, which will impact exports. If the survival package is not implemented, around 10-20 per cent of the processing, in terms of volume, will be affected. Factories outside Kerala, which are currently supplying to the domestic market, might start looking at exports -- this, along with reduced prices, would help the country reduce the shock in terms of exports due to the current crisis, Bhoodes expects. The year 2017-18 saw growth in terms of exports because of export commitments by exporters and the Council issuing grant-in-aid on the condition that the beneficiaries would export three times the worth of the grant-in-aid in a single year. Besides, the Council has also changed the membership criteria to provide membership to those who have more than 30 tonnes of exports, as against the previous practice of one tonne of exports, said Bhoodes. In dollar value, exports went up almost 18 per cent to $910 million from the $770.65 million registered during the previous financial year. Processing was around 1.6 million tonnes last year, from which around 300,000 tonnes processed kernel was collected. Around one-third of the country's production is currently being exported. Almost 50 per cent of the raw cashew processed in India is produced within the country, while the rest of the raw cashew is getting imported.