Cashew prices crash in Goa owing to oversupply
April 01, 2019 | 0 Comments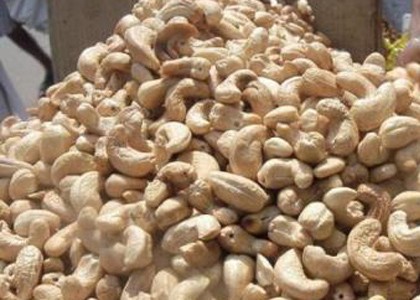 PANAJI: Cashew is losing its 'crunchiness' in the 2019 season, as prices of the raw nuts have crashed in the wholesale market. From the peak of Rs 165 per kg in the previous year, the price has plunged to Rs 120 per kg presently, which means a decrease of over 30 per cent in realisations to cultivators. It is likely that the price will weaken further in the coming days, as the supply is set to increase due to fresh arrivals in the market. Local trade expects the price of nuts to drop down further by Rs five per kg and settle at an average price of Rs 115 per kg for the 2019 season.
In the previous year, farmers earned an average of Rs 150-Rs 155 per kg for the crop. According to trade sources, the prices have dropped due to excess stock held by processors, who in the previous season procured large quantities of raw nuts from other states. "Goan processors are unwilling to pay high rates for raw nuts in the local market, as cashew is available cheaply in other states as well as internationally," said the source. Meanwhile, Rohit Zantye, president, Goa Cashew Processors Association, said that cashew prices have crashed because of a correction in the market.
"Since 2005, prices have moved upwards steadily and the current drop now is because of a correction," he said. Zantye pointed out that the cashew market is currently in oversupply position due to a higher production in growing countries like Africa and Tanzania. Cashew processor cum exporter, A P Kamat, Ajanta Industries, Ponda, said that the price slump in Goa is in line with domestic and international trends where on the whole, the market is down due to increased supply. "Overall, the cashew industry is going through a low phase currently," said Kamat.
Cashew cultivation in the state is mainly noticed in talukas of Sattari, Pernem, Bicholim, Bardez and Sanguem. The state's cashew production in 2017-18 was 28,012 tons, which was 15 per cent higher than the 2016-17 production of 24,396 tons. In 2018-19, production is expected to be 'normal' based on the arrivals so far in the market. "We are getting mixed reports from cultivators in different regions but arrival from South Goa is encouraging and we are anticipating good arrivals in the coming days," said a trader in the state.
He said that in the current year the crop is expected to be steady – not significantly higher or lower than the 2018 crop. Cashew is profitable to farmers in the state. Around 56,000 hectares of land is under cashew cultivation and the production hovers in the range of 25,000 tons annually. The problem associated with cashew cultivation in Goa is the low yield, as plantations lack irrigation facilities and good farming practices.